[UPDATED!] Eigashima Shuzo is located in Akashi City, Hyogo Prefecture, and first acquired a whisky-making license in 1919. The new distillery was established in 1984.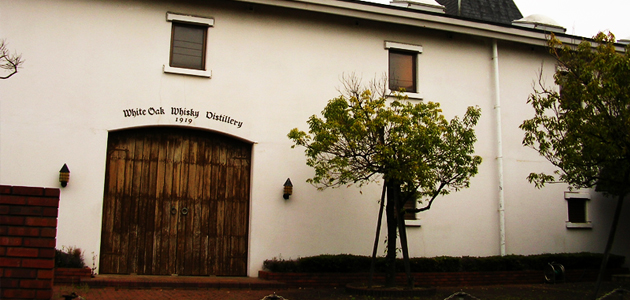 Latest Information (June. 2013)


Eigashima's whisky making in this season will be for 2 months; from 31st May to 31st July.
On 12th June, the limited product "White Oak Akashi Single Malt 15y" was released. Spirits was matured in Spanish oak sherry cask first 12 and half years, then further maturation in Japanese oak called Konara for 2 & half years. Non chill-filtered and non coloured bottling, only 795 bottles were produced.
Originally a sake and shochu producer, encouraged by an increase in demand for imported whiskies, the distiller made a tentative start into local whisky making -an unknown territory for them- only using the facilities and know-how applied from shochu-making.
The distillery was built in the Scottish style, and they are producing only malt whiskies although on a very small scale. This is very unique distillery, using only specially-selected barley imported from Scotland, and production water that comes from the same underground source used in the making of their Japanese sake.
The current still house was newly built in 1984, and equipment such as the potstills, washbacks and so on, were all moved to the new facility at the same time. Subsequently the previous still house was converted into the warehouse still being used today.
The new warehouse has a slate covered roof and insulated walls. The influence of the local climate makes it a very unique environment to mature whisky compared to other distillers' warehouses, with  huge temperature difference between summer and winter. But on the other hand, it is said that this helps their whisky to mature faster.  Also, the location of the distillery is close to the sea, and we might expect this to give a  "briny flavour" to their whisky, but unfortunately even the President of the company  says he is unable to detect it.
Eigashima Shuzo's whisky is called "White Oak", and enjoys the title of "local whisky". The brand not only survived the threat of near-extinction due to a relaxation of liquor tax on imported whiskies, but more recently has also seen a revival, thanks to a rise in popularity of Japanese whiskies. The long-awaited release of single-cask whiskies has also begun gradually.
Main Products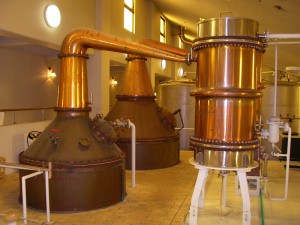 White Oak Akashi Blended
White Oak Single Malt
White Oak Akashi 14 years old
Distillery Address
Address : Nishijima 919, Okubocho, Akashi city, Hyougo Prefecture
Post code : 674-0065
Tel : 078-946-1001
Opening hours : Please enquire.
Holidays : Saturday, Sunday, New Year, Public Holidays
Access
Nearest Station : Nishi-Eigashima Sta. Sanyo Densha Railway
Travelling from Tokyo
Tokyo Sta. — Tokaido Shinkansen "Nozomi" Super Express (2:18) →
Kyoto Sta. — Tokaido Shinkansen "Hikari" Super Express (40 min.) →
Nishi-Akashi Sta. ― TAXI (15 min.)→ Eigashima Distillery

Expected journey time : Around three and a half hours
Estimated cost : Around 16,000 Japanese Yen
【By Train】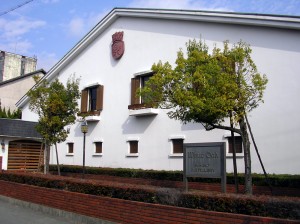 ●7 min. on foot to the south from Nishi-Eigashima Sta.
【By Car】
●About 15 min. ( 6km ) from the Okubo I.C. of the Daini-Shinmei Expressway
【Parking Capacity】
●Please enquire.
Detailed Information
| | |
| --- | --- |
| Owned by | Eigashima Shuzo co. ltd |
| Founder | Hyoukichi Tobe |
| Founded in | 1888 |
| Established in | 1984 |
| Number of Pot Stills | 2 |
| Number of Washbacks | 4 |
| Material | Stainless steel |
| Number of Warehouses | 1 |
| Warehouse type | Rack |
| Distillery site area | 3,000㎡ |
| Number of Staff | 40 |
| Visitor Centre | None |
| Visitor Tour | Please book in advance |
| English Guidance | Not availavle |
| Facilities | Shop |
| Website | www.ei-sake.jp/all/distillery.html |
Travel Guide around the distillery(Link to "trip advisor")