The founder of Nikka Whisky, Masataka Taketsuru, believed that "It's preferable to blend whiskies from several different climates" and therefore sought to open his second distillery to complement the company's Yoichi Distillery in Hokkaido. As a result, the Miyagikyo Distillery, originally known as "Sendai Distillery", was opened in 1969.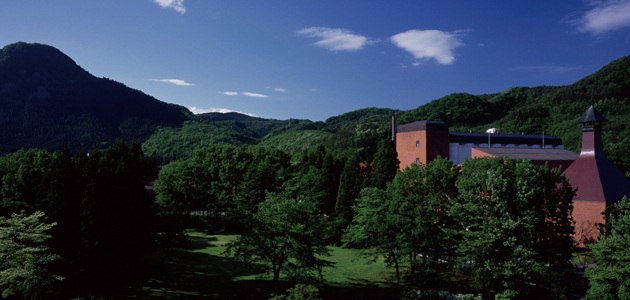 With the Nikkagawa River flowing nearby, the distillery enjoys an ideal environment for making a mild, lowland-style whisky. This site is also known as the place where Masataka Taketsuru tried a  Whisky-and-Water, made with Black Nikka and local water and, upon tasting the drink, immediately decided to build a distillery there. He used a type of pot still that utilized steam heating which allows the distillation to be done more slowly and at a lower temperature than heating with direct fire. Together also with the use of production water taken from the Arakawa river, this results in a mild-flavored spirit. The local climate, which is ideal for the aging and storage of whisky, also greatly contributed to the decision.
At Miyagikyo Distillery, two Coffey stills, a type now very rarely used anywhere in the world,  made by Blairs Limited of Glasgow, are also in use. The Coffey still, an early continuous still invented by Aeneas Coffey, is said to leave more flavour in malts than the more widely-used types of continuous stills. However, it can only be operated by a very limited number of master distillers as its control is extremely difficult. Originally a part of the Nikka Nishinomiya Plant,the stills were moved to Miyagikyo in 1999, and produce grain whiskies from corn and malt.  Although an experimental distillation of Coffey Malt using only barley malt has also been tried, the Coffey still isn't particularly suited to distilling malt alone, and therefore, production of the Coffey Malt is limited.
"Miyagikyo" and "Sendai", which is only sold in limited areas, are Nikka's two single malt brands. In addition, Miyagikyo Distillery provides grain whisky for the company's blended whisky production.
Main Products
Single Malt Miyagikyo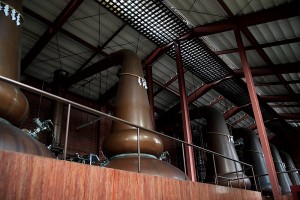 Single Malt Miyagikyo 10 years old
Single Malt Miyagikyo 12 year old
Single Malt Miyagikyo 15 years old
Single Malt Sendai 8 years old
Single Malt Sendai 12 years old
Nikka All Malt
Distillery Address
Address : Nikka 1, Aoba-ku, Sendai city, Miyagi Prefecture
Post code : 989-3433
Tel : 022-395-2865 (8:45〜16:30)
Opening hours : 10:00 〜 16:45
Holidays : New Year, Factory's Holiday, (Extra holidays)
Guided Tour
A tour guide will introduce the history of Nikka Whisky, explain manufacturing process etc.
Duration Time …… Approx. 60 min. (The tour includes observation of the manufacturing process and a tasting.)
Reception …… 9:00〜11:30、12:30 ~ 15:30
Group Tour …… Please make bookings in advance for groups of 10 or more people or if special guidance is required.
Access
Nearest Station : JR Sakunami Sta. (Senzan Line)
Travelling from Tokyo
Tokyo Sta. ― Tohoku Shinkansen "Hayate" Super Express (1:40) →
Sendai Sta. ― JR Senzan Line for Yamagata (35 min.) →
Sakunami Sta. ― TAXI (10 min) → Miyagikyo Distillery
Expected journey time : Around three and a half hours.
Estimated cost :  Around 12,000 Japanese Yen
【By Train】
●5 min by car (25 min. on foot) from Sakunami Sta. to the Distillery.
【By Car】
●About 25 min from Yamagata on  Route 48 from the Sendai-Miyagi I.C. of the Tohoku Expressway.
【By Coach】
●Take the City Bus for Sakunami Onsen (hot spring) from Sendai Sta, then get off at Nikka-bashi. (about 1 hour)
【Parking Capacity】
●Please ask.
| | |
| --- | --- |
| Owned by | Nikka Whisky co. ltd |
| Founder | Masataka Taketsuru  |
| Founded in | 1934 |
| Established in | 1969 |
| Number of Pot Stills | 8 |
| Number of Washbacks | 22 |
| Material | Stainless Steel |
| Number of Warehouses | 16 |
| Warehouse type | Dunnage |
| Distillery site area | 177,632㎡ |
| Number of Staff | 75 |
| Visitor Centre | 9:00~16:00 |
| Visitor Tour | Free・Free tour … 9:00~11:30 / 12:30~15:30 |
| English Guidance | Not available |
| Facilities | Shop … 9:00~16:00 |
| Website | http://www.nikka.com/index.html |
Travel Guide around the distillery(Link to "trip advisor")


Reviews