Yoichi Distillery was founded in 1934 by Masataka Taketsuru who went alone to Scotland in 1918 to study the art of whisky making.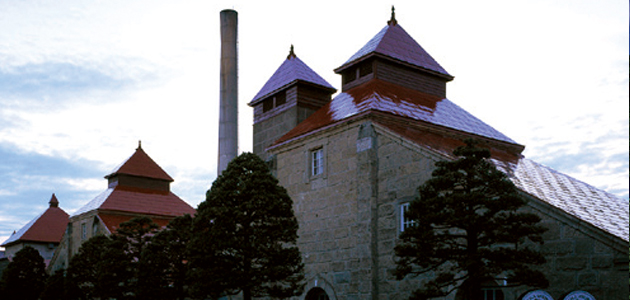 He learnt that "The distillery should be located in a cold climate with an appropriate humidity, there should be a high quality water source and an abundant supply of  herbaceous peat. Furthermore it should be close to an area where barley is grown and where there are forests to supply wood to make barrels and also the coal necessary to fire the stills."
Yoichi, to the north- west of Sapporo on the island of Hokkaido, satisfied all of these conditions and was chosen as the site of Taketsuru's distillery. There they carry out traditional distillation, using coal to direct fire the stills, something which is no longer seen even in Scotland these days.
The straw festoon seen around the pot stills at Yoichi is a tradition  designed to ward away evil spirits, carried over from the sake brewing industry, in which Masataka Taketsuru's parents were involved. The earth floors of the cask warehouses are designed to maintain a year-round humidity appropriate for whisky maturation.
The traditional features of Yoichi whiskies are not only a richness like a Highland whisky, but also a power that comes from its peaty flavor. But the distillery can make various styles of whiskies, ranging from Lowland through to Islay, as can other distilleries in Japan.
The remarkable quality of Yoichi Single Malts has been proven by the winning in 2001 of  Whisky Magazine's "The Best of the Best" competition, where whiskies from around the world were tasted blind by a panel of judges.


Main Products
Single Malt Yoichi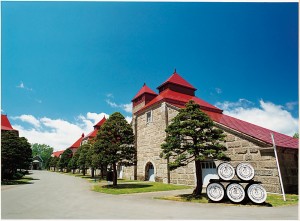 Single Malt Yoichi 10 years old
Single Malt Yoichi 12 years old
Single Malt Yoichi 15 years old
Single Malt Yoichi 20 years old
Taketsuru Pure Malt 12 years old
Taketsuru Pure Malt 17 years old
Taketsuru Pure Malt 21 years old
Taketsuru Pure Malt 35 years old
Nikka From the Barrel
Tsuru 17 years old
Nikka the Blend
Nikka Gold & Gold
Address 
Kurokawacho 7-6, Yoichicho, Yoichi-gun, Hokkaido
Post Code : 046-0003
Tel : 0135-23-3111 (9:00〜17:00)
Opening hours : 10:00 ~ 17:00
Holidays : New Year (25th Dec. ~ 7th Jan.), Factory Holiday, Extra Holidays
Guided Tours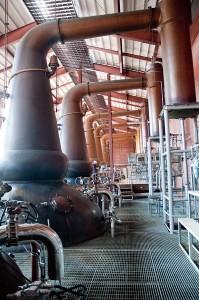 A tour guide will introduce the history of Nikka Whisky, explain the manufacturing process etc.
Duration Time …… Approx. 60min. (The tour includes observation of the manufacturing process and a tasting.)
Reception …… 9:00~12:00, 13:00 ~ 16:00
Group Tour …… Please make bookings in advance for groups of 10 or more people or if special guidance is required.
*Viewing facilities are opened till 17:00. You can view inside  the distillery.
*A Distillery guide map is available at the distillery free of charge.
Access
Nearest Station : JR Yoichi Sta.
Travelling from Tokyo
Tokyo Sta. ― JR Yamanote Line (5 min.) →
Hamamatsucho Sta. ― Tokyo Monorail for Haneda Airport (20 min.) →
Haneda Airport ― Airplane (1:30) →
Shin-Chitose Airport  ― walk (10 min) →
Shin-Chitose Airport Sta. ― JR Rapid Airport for Otaru (1:15) →
Otaru Sta. ― JR Hakodate Honsen for Kucchan (25 min) →
Yoichi Sta. ― walk (5 min.) → Yoichi Distillery
Expected journey time :  Around 3~4 hours
Estimated cost : Around 36,000 Japanese yen
【By Train】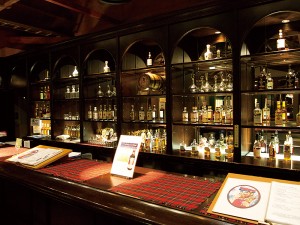 ●2 ~ 3 min. on foot from Yoichi Sta.
Trains on this line are very infrequent. Please check the timetable in advance.
【By Car】
●50km to the West on Route 5, then turn left at the Okawa crossing in Yoichi town.
Go straight 600m then turn right at the crossing in front of Yoichi Sta,  arriving soon at the distillery.
【By Bus】
●Several buses are available from Otaru Sta.
【Parking Capacity】
●Please ask
| | |
| --- | --- |
| Owned by | Nikka Whisky Co. Ltd |
| Founder | Masataka Taketsuru |
| Founded in | 1934 |
| Established in | 1934 |
| Number of Pot Stills | 6 |
| Number of Washbacks | 10 |
| Material | Stainless steel |
| Number of Warehouses | 27 |
| Warehouse type | Dunnage |
| Distillery site area | 120,000㎡ |
| Number of Staff | 25 |
| Visitor Centre | 10:00 ~ 17:00 |
| Visitor Tours | Free (More than 10 participants, please book in advance.) |
| English Guidance | Not available |
| Facilities | Shop, Restaurant |
| Website | http://www.nikka.com/ |
Travel Guide around the distillery(Link to "trip advisor")


Reviews