In 1972, "Kirin Seagram Ltd.," was born as  collaboration between Kirin Brewery Company Limited, Joseph E Seagram and Sons, Inc., (at that time,U.S.A.) and Chivas Brothers (U.K.).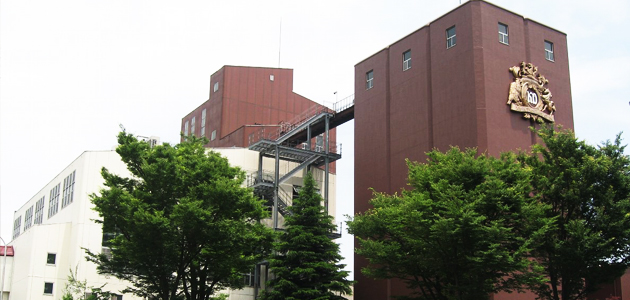 The following year saw the beginning of whisky production in Gotemba. Unlike most other distillers in the world, the company's distillery undertakes all the production processes from mashing to bottling of both malt and grain whiskies on-site.
The company produces altogether four different types of whiskies: a malt whisky that is distilled in traditional pot stills and three types of grain whiskies that are distilled in commonly-used "continuous" stills, "beer column and doubler" stills (for the bourbon style) and "kettle and column" stills. These stills produce their own distinctive types of grain whiskies, namely heavy, medium and light respectively, ensuring that the company's product line-up is wide and varied. 
The distillery is located 620 meters above sea level. The whisky is allowed to gently mature at the often mist-covered distillery, where, due to the altitude,  the average annual temperature is just 13 degrees Celsius. The production water is taken from underground streams  that flow beneath  Mt. Fuji.
In order to maximize contact between the cask and the spirit, only 180L ex-bourbon barrels are used for maturation, resulting in a malt whisky with a mild and sweet flavour. 
Production of single malt is very limited, due to the fact that most finished whisky is used for the company's blended products; "Fuji Sanroku 18 Years Old" alone is bottled as a single malt.
Main Products

Fuji Sanroku 50%
Fuji Sanroku Single Malt 18 years old
Robert Brown
Boston Club
Ocean Lucky Gold
Distillery Address
Address : Shibanuta 970 Gotemba, Shizuoka Prefecture
Post-code : 412-0003
TEL :0550-89-4909 (9:00〜15:30)
Business hour : 9:00 〜 15:30
Holidays : Every Monday, New Year (Tuesday will be closed when Monday is public holidays.)
*Please enquiry extra holidays in advance.
Guided Tour
Duration Time …… Approx. 60 min.(The tour includes a viewing of the manufacturing process and a tasting).
Reception …… 9:00~15:30 (Guide tour is closed at 3pm.)
[Personal Tour : Less than 10 persons]… Booking : Necessary
[Personal Guidance Tour : Less than 10 persons]… Booking : Necessary (Enquire beforehand.)
[Group Guide Tour : More than 10 persons]… Booking : Necessary (Book at least 10 days in advance.)
Access
Nearest Station : JR Gotemba Sta.
Travelling from Tokyo:
Tokyo Sta. — Tokaido Shinkansen KODAMA Super Express (1 hour) →
Mishima Sta. ― JR Tokaido Line for Shizuoka (5 min.) →
Numazu Sta. ― JR Gotemba Line for Kouzu (30 min.) →
Gotemba Sta. ― TAXI (20 min) → Fuji Gotemba Distillery
Expected time : about 2 hours
Estimated cost : about 6,500 Japanese Yen
[By Train]
●20 min. from Gotemba Sta. by taxi.
[By Car]
●Get off the Tomei Expressway at the Gotemba I.C. then proceed for 6km straight ahead on Route 138.
[Parking]
●About 30 cars capacity (about 5 large buses can be parked.)
| | |
| --- | --- |
| Owned by | Kirin Holdings |
| Founder |   |
| Founded in | 1972 |
| Established in | 1973 |
| Number of Pot Stills | 4 |
| Number of Washbacks | 18 |
| Material | Stainless steel |
| Number of Warehouse | 5 |
| Warehouse type | Rack |
| Distillery site area | 165,820㎡ |
| Number of Staff | - |
| Visitor Centre | 1 |
| Visitor Tour | Free・Free Tour…9:00~15:30(16:30 close)・Guide Tour…9:00、10:00、11:00、13:00、14:00、15:00 |
| English Guidance | Not available |
| Facilities | Shop |
| Website | http://www.kirin.co.jp/brands/sw/gotemba/ |
Travel Guide around the distillery(Link to "trip advisor")


Reviews